Shared from the 6/13/2021 San Francisco Chronicle eEdition
One-of-a-kind tours offer surprising stories, scenic views
By Carey Sweet
BRIAN FEULNER
Gael Gallagher leads a group on a walking tour of Carmel-by-the-Sea,
including some four-dozen hidden courtyards, passageways and picturesque alleys.
BRIAN FEULNER
Left: Gael Gallagher leads a tour group on a two-hour stroll of Carmel,
including hidden courtyards.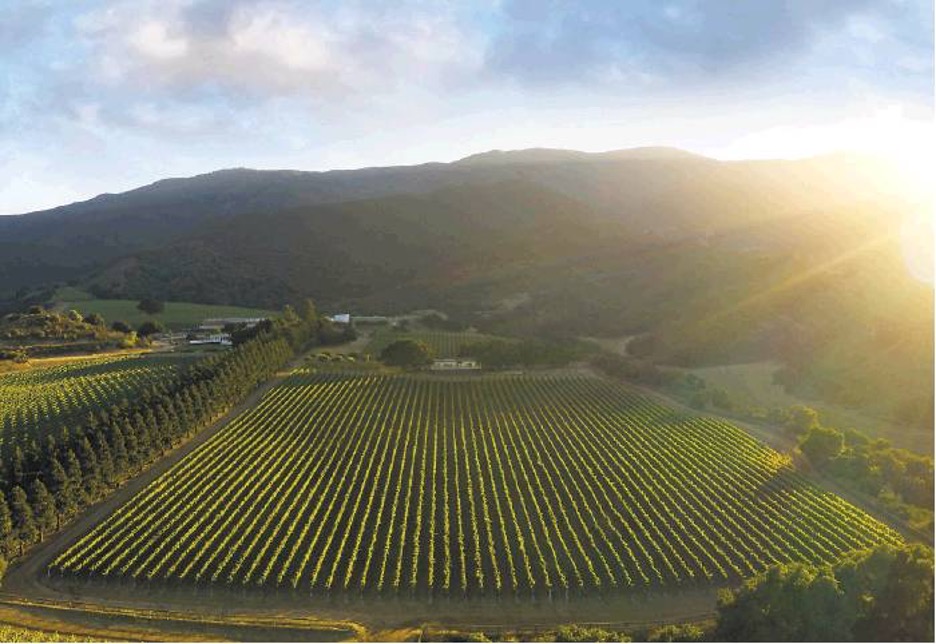 HAHN ESTATE
Hahn Estate in Santa Lucia Highlands plans to offer its popular ATV Tours again in July with views of manicured vineyards.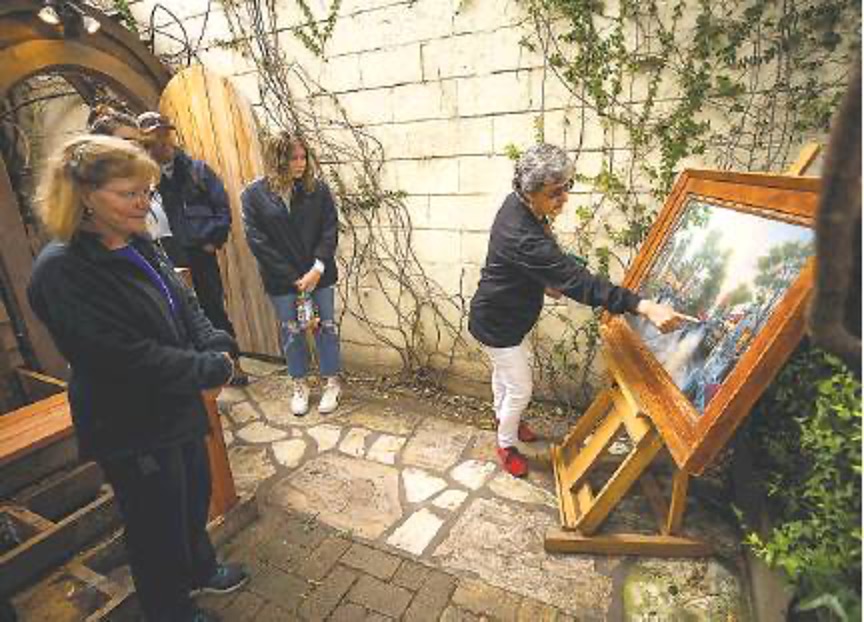 BRIAN FEULNER
Right: Gallagher points out a painting at the Thomas Kincaid Art Gallery.
If you've visited many, or even all of the boutique cities and quaint towns in Monterey County, you may feel you know the area quite well. But one of the special treats of this region is its capacity to surprise. There's always something new to discover in the artsy and nature-driven communities, and sometimes, the best way to do that is to tour with an expert.
Professional guides take great pride in showing off their hometowns and sharing their off-the-beaten-path joys.
WALKING TOURS
As Gael Gallagher leads small groups of visitors around Carmel-by-the-Sea, she seems just as delighted as her guests to explore a star of the hamlet's wonders: the some four dozen hidden courtyards, passageways and picturesque alleys that lace through this one-square-mile hideaway that was developed as an artists' colony after San Francisco's 1906 earthquake.
She moves briskly across the downtown's cobblestone streets and up and down the sloping residential roads, excitedly pointing out all kinds of prettiness including a secret garden with fountains and a geodesic dome, tucked-away art galleries and storybook Comstock cottages peeking from behind lavish utopias of flowers and trees.
As a Monterey resident for more than four decades, she calls herself a combination of "tour director, naturalist and historian," describing the local foliage as easily as the works of the late architects Bernard Maybeck and Charles Sumner Greene, or the lore of famous former residents like Clint Eastwood and Doris Day.
"Every footstep is a treasure," she said.
Through the two-hour stroll, we stop in to meet the proprietors of charming restaurants and wine tasting rooms (enjoying snacks and sips, of course), then pause to admire fascinations like the 1927 Tuck Box restaurant that looks like a Grimms' Fairy Tales showpiece with its undulating roof, wavy brick chimney and tree trunk style front door.
One of Gallagher's favorite secret spots is the Frank Sinatra Room at Pèpe's Little Napoli Bistro Italiano on Dolores Street, she said. That's because Napoli owner Rich Pèpe grew up in Hoboken, New Jersey with the Sinatra family — Frank's mother was a midwife, and delivered numerous Pèpe family members. The room brims with vintage photos, and Pèpe is always on hand to share the stories with diners feasting on Jackie-O pasta draped in pink vodka sauce, pancetta and peas.
Gallagher also encourages us to customize our itineraries, if something catches our fancy.
That's how we end up visiting City Hall to get our free permits to wear high heels — the Carmel Municipal code bans wearing shoes with heels more than two inches tall, put into an unenforced law in 1963 to defend the city from being sued if wearers of rickety spikes trip over the village's irregular pavements distorted by tree roots.
For other adventures, Gallagher hosts walking tours of Monterey Bay to visit landmarks like the local aquarium and Cannery Row, plus driving tours of the Monterey coast.
If a self-guided walking tour appeals, the Pacific Grove Chamber of Commerce makes exploring its nearby quaint town so easy via its Historic Walking Tour map available at its Tourist Information Center.
BRIAN FEULNER
Gael Gallagher leads her Carmel Walks tours through gardens and past storybook Comstock cottages peeking from behind lush flowers and trees.
Since 1875, the area has drawn visitors who turned into residents — purchasing lots for as little as $25 — in the area beloved for its fragrant pine trees and cool Pacific Ocean air.
Robert Louis Stevenson himself called the place "dreamlike."
Now spanning 2.6 square miles, the burg brims today with some two dozen historic locations all within walking distance of downtown. Check out sites like the 1855 Point Pinos Lighthouse that is the oldest continuously operating lighthouse on the West Coast, and a variety of homes in distinctive, eclectic architecture including Pueblo Revival with projecting wood beams and rounded windows, ornate Folk Victorian or Romanesque with simulated sandstone and entryway columns.
RURAL WINERY TOURS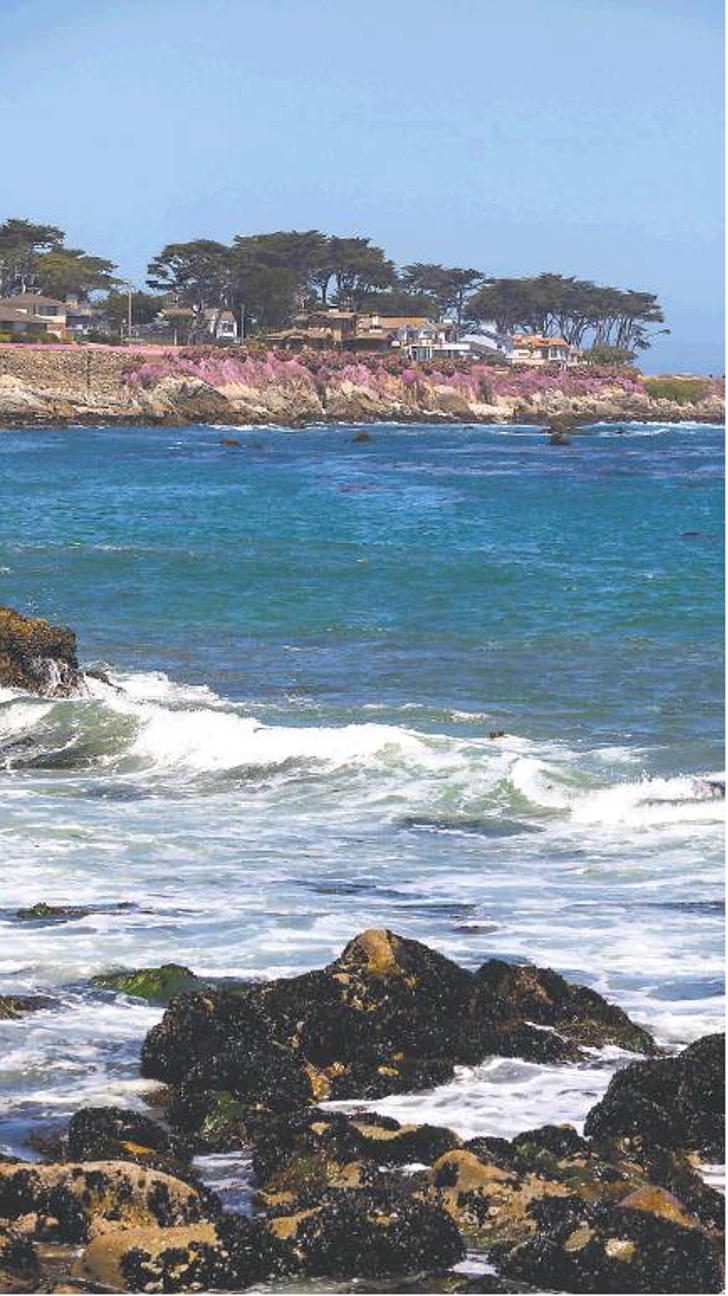 BRIAN FEULNER
Gael Gallagher hosts driving tours of the Monterey coast as well as walking tours of Monterey Bay to visit landmarks like the local aquarium and Cannery Row.
If all goes well with California's reopening, the team at the familyowned Hahn Estate in Santa Lucia Highlands plans to offer its popular ATV Tours again in July. You hop into an openair, all-terrain vehicle for bird's eye views of the manicured vineyards, rugged mountain scapes and Pinnacles National Park. Visitors also discover how the 650-acre property is certified sustainable under the rigorous Sustainability in Practice (SIP) program and how a 12-mile-long coastal region tucked along the western hills of Monterey's Salinas Valley is perfect for growing premium Pinot Noir and Chardonnay.
The tour is one of the area's best way to see the more rare hillside vineyards planted on narrow, terraced benches at elevations ranging from 200 to 1,200 feet above sea level.
And then you get to visit the wine cellar to learn about bringing grapes to glass, followed by filling your glasses with wine tastings. For a 1.5-hour deep dive into Monterey County wine character, it's a remarkable deal at $45 per person.
Hahn Estate also is in the heart of the River Road Trail, a collection of mostly boutique wineries featuring destinations like Chalone Vineyard, the oldest producing vineyard in Monterey County. Perched in the remote Gabilan Mountain Range, 1,800 feet above Salinas Valley, the bucolic property sits at the base of an extinct volcano bordering Pinnacles National Park.
You can taste wines directly in the 1,000-acre vineyard, and learn how the region's first grapes were planted on this site in 1919.